Qualification Overview
Previously known as Level 6 Graduate Diploma in Business Administration.
Level 6 Diploma in Business Administration meets the need of those wanting to gain a qualification which provides a firm grounding in business administration and a basis for further academic study. This course focuses on the functional areas of management and administration within an organisation and how those disciplines integrate at the operational level, linking with the overall corporate strategy to achieve short, medium and long-term objectives. Diploma in Business Administration is accredited at Level 6 onto the Regulated Qualifications Framework (RQF) by Qualifi as regulated qualification (Qualification Accreditation Number: 603/1037/6). The programme has a total 120 credits.
At the end of this programme, learners will be able to,
Develop problem-solving techniques and critical thinking skills in a business situation.
Demonstrate an understanding of the internal structure and external relationship for companies doing business at an international level.
Demonstrate an understanding of the organisation and its management system.
Examine the concept of entrepreneurship including behaviours, processes and skills relate to small business and enterprise.
Manage budget and perform financial analysis to the organisations for effective decision making.
Manage complex issues in the organisation to improve management practice.
Perform environmental analysis for strategic marketing decision making to implement the strategy.
Develop managerial and leadership skills to manage team performance.
Gain knowledge about the advanced economic literature and legal systems in which business operate.
Understand strategic human resource techniques and tools to manage employees' performance.
Apply research methodologies for effective decision making.
Develop an ability to analyse information and to identify a research question and to apply advanced research techniques and tools to create new literature which is justifiable and measurable.
Course Structure
The overall structure of the course is based on five modules that cover a number of topics relating to learning outcomes. Learners will be invited to attend lectures and workshops that will introduce the subject matter. Learners must complete five units successfully and achieve 120 credits before the Diploma can be issued.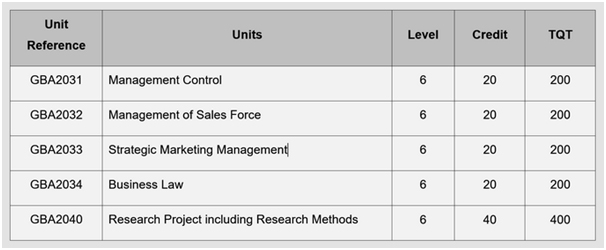 Entry Requirements
Learners must fulfil the following criteria to be permitted entry onto the course -
EBMA Level 5 Advanced Diploma in Business Administration or
Qualifi Level 5 Diploma in Business Management or
an equivalent qualification equivalent to NQF Level 5 or
In certain circumstances, managers with considerable experience but no formal Qualifications may be considered, subject to interview and being able to demonstrate their ability to cope with the demands of the programme.
Assessment
Learners are required to develop an assignment for each unit. Assignments are important part of learners' work at the Centre. There are strict rules about:-

plagiarism – using another person's words out of a book/ journal article/ conversation/ lecture without formally acknowledging it,
referencing - how to reference and refer to another person's work in your written work so you avoid plagiarism,
word length of essays and reports,
Presentation and style of a report, including the style of language used, and
Learners are required to sign a declaration of authentication to confirm that the work is their own and that any assistance given and/or sources used have been acknowledged.



All learning outcomes must be assessed using assignment appropriate to the assessment of knowledge, understanding and skills.
There must be valid, sufficient, and authentic evidence of all the assessment criteria.
Submitted assignments should be marked by an assessor. Assessors must plan, gather and then assess learner's evidence per RQF level descriptors' requirements and based on Pass/Fail criteria. These should be made available for internal moderation to the centre Internal Quality Assurer (IQA).
A mark of at least 40% is required for a unit to be passed and the credit achieved. This same pass mark applies to all units that contribute to the Diploma. Once a unit pass mark has been agreed by and credit awarded, the student may not be re-assessed in that unit.
EBMA undertakes external moderation to monitor the assessment and internal moderation processes within the centre to make sure the assessment remains fit for purpose and that the assessment process and practices by the centre continue to meet EBMA's centre recognition requirements.
Fees Information
Learner(s) can study this qualification directly with EBMA through its virtual learning environment, or via recognised centres. Recognised centres are training providers, employers, colleges or universities, which are recognised by EBMA to deliver this qualification.
Study Directly with EBMA – Online through virtual learning environment
UK & International Students Fees: £1000.00 (£200.00/module)
Study with EBMA Recognised Centres
In this case, you just have to pay Registration fee to EBMA. However, your study centre will charge course tuition fee. Please consult through our fees page for latest information.
Support and Training
Qualification Specification
Qualification specification includes all elements and requirements with respect of each of the details that apply to the qualification. Qualification specification is useful document for students, centres and centre staff.
Training for Centre Staff
Book your training today and achieve recognised qualification in assessment and internal quality assurance. Following courses are available for individuals those who want to become assessors & IQA/IV.
Assessor
Level 3 Award in Understanding the Principles and Practices of Assessment (QCF)
Level 3 Award in Assessing Competence in the Work Environment (QCF)
Level 3 Award in Assessing Vocational Achievement (QCF)
Level 3 Certificate in Assessing Vocational Achievement (QCF)
Internal Quality Assurance/Internal Verifier
Level 4 Award in Internal Quality Assurance of Assessment Processes and Practice (QCF)
Level 4 Certificate in Leading the Internal Quality Assurance of Assessment Processes and Practice (QCF)
Please contact us if you would like to book your training and to achieve recognised qualification in assessment and internal quality assurance.
Career Development
Learners completing the Level 6 Diploma in Business Administration will allow progress to:
A university partner to complete a full master's degree, or
Directly into employment in an associated profession.
This qualification encourages learners to gain the skills and attitudes that will help them achieve their goals and aspirations. Level 6 Diploma in Business Administration provides a range of knowledge and skills relating to international business, entrepreneurship, management and leadership, finance, marketing, business law, sales force management and research methods for managers. The graduate can utilise those skills to find a good and well-paid job in all areas of management and administration.
University Pathways
The University of St Mark and St John recognised Level 6 Graduate Diploma in Business Administration for entry onto the following degree programmes. Originally founded in the early 1840s, and the University is a recognised Higher Education Institute (HEI) in the United Kingdom.
Master of Business Administration
Executive MBA