Qualification Overview
This qualification has been created to develop and reward the business managers of today and the future, and to continue to bring recognition and professionalism to the management sectors. Learners will gain insight into the functioning, objectives and processes of organisations, appreciating their diversity and the influences and impact of external forces on them. The fast-changing and complex business environment and different organisation's ability to stay resilient and respond positively to change and opportunities will be explored. Management of a range of business operations and functions, the management of specific challenges for organisations will introduce Learners to management theory, practice and models that will provide valuable knowledge and know-how. The rationale of the programmes is to provide a career path for learners who wish to develop their management capabilities within the business sector. Diploma in Business Enterprise is accredited at Level 5 onto the Regulated Qualifications Framework (RQF) by Qualifi as regulated qualification (Qualification Accreditation Number: 601/6050/0).
The Qualification will develop the Learner's ability to:
apply analytical and evaluative techniques and to enhance those skills;
investigate issues and opportunities;
develop their awareness and appreciation of managerial, organisational and environmental issues;
use management techniques and practices in imaginative ways;
make use of relevant information from different sources;
develop and encourage problem-solving and creativity to tackle problems and challenges;
exercise judgement, own and take responsibility for decisions and actions; and
develop the ability to recognise and reflect on personal learning and improve their personal, social and other transferable skills.
The overall learning outcomes for the qualifications are:
To understand and apply the principles of leadership in a business environment
Review and apply the principles of business management within industry
To understand and apply the principles of management in a specific environment
To improve the employability of learners by allowing them to explore the relationship between management theories and their practical application in the business world.
Analyse problem-solving techniques specific to business and industry
Select, collate, review and analyse information from a wide range of sources
Effectively use verbal and communication skills
Work independently and as part of a team
Manage one's own personal development and growth
These are the overall learning outcomes in line with first-degree equivalencies.
Course Structure
The Diploma in Business Enterprise at Level 5 equalling 240 credits through part 1 and part 2. Learners are required to complete 6 units at Level 4 to achieve the 120 credits required to gain the Level 4 Certificate in Business Management. Learners who register for this diploma and fail to complete may be awarded a Level 4 if they have completed sufficient credit.
Part 1: Level 4 Certificate in Business Management
The Qualification is made up of 6 units. All units are mandatory and required by learners for the Level 4 Certificate in Business Management.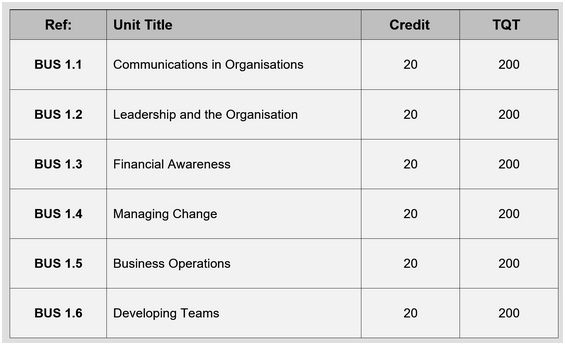 Part 2: Level 5 Diploma in Business Enterprise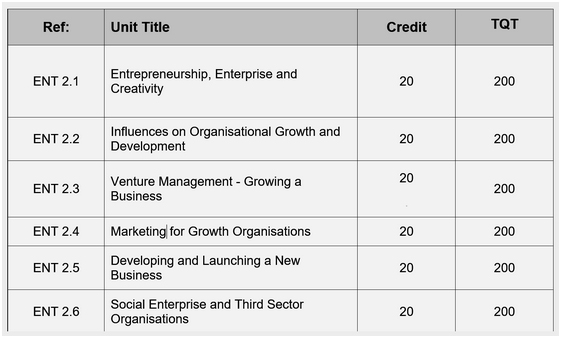 Entry Requirements
The Qualifications have been designed to be accessible without artificial barriers that restrict access and progression. Entry to the Qualifications will be through centre interview and the candidates will be expected to hold the following -
Learners who possess Qualifications at Level 3;
Learners who have work experience at a managerial level and demonstrate ambition with clear career goals;
Learners who possess a first degree in another discipline and want to develop their careers in business.
Assessment
Each unit within the qualification is assessed through an assignment.
Assignment tasks will be written in a way to make them realistic 'work-related' tasks wherever possible. Knowledge, understanding and application will be need to be demonstrated by Learners. Original thought, problem solving and recommendations on actions will also be asked for from the Learner where appropriate for the unit. Intellectual rigour will be expected appropriate to the level of the Qualification.
Assignments will contain a question strand for each of the given unit's Learning Outcomes. The assignment tasks will address the LO (Learning Outcome) and AC (Assessment Criteria) requirements. Within assignments there will always be requirements for Learner's to engage with important and relevant theory that underpins the subject area. The assignment questions will require Learners to draw on real organisations to illustrate their answers.
A mark of at least 40% is required for a unit to be passed and the credit achieved. This same pass mark applies to all units that contribute to the Diploma. Once a unit pass mark has been agreed by and credit awarded, the student may not be re-assessed in that unit.
EBMA undertakes external moderation to monitor the assessment and internal moderation processes within the centre to make sure the assessment remains fit for purpose and that the assessment process and practices by the centre continue to meet EBMA's centre recognition requirements.
Fees Information
Learner(s) can study this qualification directly with EBMA through its virtual learning environment, or via recognised centres. Recognised centres are training providers, employers, colleges or universities, which are recognised by EBMA to deliver this qualification.
Study Directly with EBMA – Online through virtual learning environment
UK & International Students Fees: £900.00 (£150.00/unit)
Study with EBMA Recognised Centres
In this case, you just have to pay Registration fee to EBMA. However, your study centre will charge course tuition fee. Please consult through our fees page for latest information.
Funding Opportunities
For Learners
This qualification is an approved qualification for funding. You must be 19 or older on the first day of your course at an approved college or training provider in England.
You can apply for an Advanced Learner Loan to help with the costs of a course at a college or training provider in England. Please note that Loan eligibility doesn't depend on your income and there are no credit checks. It is much like the student loans for university courses.
For Centres
To offer Advanced Learning Loans to potential learners, you must have a loan facility with the Skills Funding Agency as an approved provider and falls on the SFA Register of Training Organisations.
Support and Training
Qualification Specification
Qualification specification includes all elements and requirements with respect of each of the details that apply to the qualification. Qualification specification is useful document for students, centres and centre staff.
Training for Centre Staff
Book your training today and achieve recognised qualification in assessment and internal quality assurance. Following courses are available for individuals those who want to become assessors & IQA/IV.
Assessor
Level 3 Award in Understanding the Principles and Practices of Assessment (QCF)
Level 3 Award in Assessing Competence in the Work Environment (QCF)
Level 3 Award in Assessing Vocational Achievement (QCF)
Level 3 Certificate in Assessing Vocational Achievement (QCF)
Internal Quality Assurance/Internal Verifier
Level 4 Award in Internal Quality Assurance of Assessment Processes and Practice (QCF)
Level 4 Certificate in Leading the Internal Quality Assurance of Assessment Processes and Practice (QCF)
Please contact us if you would like to book your training and to achieve recognised qualification in assessment and internal quality assurance.
Career Development
The Qualification deals with complex and challenging organisational issues and opportunities. The units are closely linked to current day real world and work challenges and the Qualification will test and develop student's workplace experience and abilities.
The Qualification will require learners to make judgements and provide creative and practical solutions and ways of responding to organisational challenges and problems. An action based approach will be sought and learners who have strong motivation to progress in their chosen career and business pathway will gain significantly from the qualification.
This qualification also provides an opportunity to learners to complete top-up undergraduate year at a UK University.
University Pathways
Qualifi Level 5 Diploma in Business Enterprise is recognised by Universities for entry ontofinal year of Bachelor Honour Top Up degree Please visit http://www.qualifi.net/learning-pathways/