Qualification Overview
The rationale of the programme is to provide a career path for learners who wish to develop their care capabilities within the health and social care sector. The outcome of the Diploma, which is a recognised UK Qualification, is for learners to develop the skills required by organisations globally.
The programme offered provide the opportunity for individuals to forge a career in health and social care by seeking a greater knowledge and understanding industry, and to support the individual's development into senior positions. Diploma in Health and Social Care is accredited at Level 3 onto the Regulated Qualifications Framework (RQF) by Qualifi as regulated qualification (Qualification Accreditation Number: 603/0819/9).
The course aims for the following:
To equip individuals with the knowledge, understanding and skills required for success in employment in the health and social care sector
To enable progression to the first year of a degree or related professional qualification
To provide specialist study relevant to individual vocations and environments in which learners are currently working, or to which learners are aiming to work within the health and/or social care sector
To develop learners' ability to contribute positively to good practice in the health and social care environment through effective use and combination of the knowledge and skills gained in the qualifications
To develop skills and techniques, personal qualities and attributes essential for successful performance in working life and thereby enabling learners to make an immediate contribution to employment.
Students studying for Diploma in Health and Social Care will be expected to develop the following skills during the programme of study:
The ability to read and use appropriate literature with a full and critical understanding the ability to think independently and solve problems
Applying subject knowledge and understanding to address familiar and unfamiliar problems
Recognising the moral and ethical issues of health and social care practice and research; appreciating the need for ethical standards and professional codes of conduct
An appreciation of the interdisciplinary nature of health and social care service provision
Capacity to give a clear and accurate account of a subject, in a mature way and engage in debate and dialogue both with specialists and non-specialists.
To develop transferable skills and knowledge which will enable individuals to meet changing
To motivate individuals to progress to further professional development through future study or as part of their chosen career.
These are the overall learning outcomes in line with a level 3 qualification in the Regulated Qualifications Framework.
Course Structure
There are mandatory and optional units for this Qualification. All units cover a number of topics relating to learning outcomes. Each module has the equivalency of 10 credits.
Learners are required to complete 6 modules to achieve the 60 credits required to gain the Level 3 Diploma in Health and Social Care. Learners will be expected to attend lectures and workshops that will introduce the subject matter. Formative assessments (weighted at 0%) may be used in lectures or tutorials to check knowledge and understanding of specific topics and subject areas. Units require reflective exam sets and/or summative assessments for marking.
The Diploma requires 4 Mandatory Units and a minimum of 2 Optional Units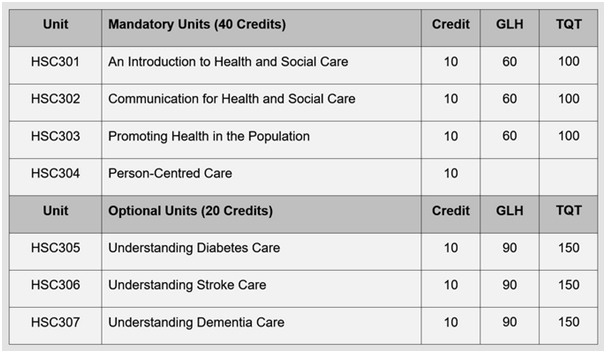 Entry Requirements
Learners must fulfil the following criteria to be permitted entry onto the course:
Level 2 in Business or equivalent qualification or relevant substantial work experience; or
earners who have work experience in the health and social care sector and demonstrate ambition with clear career goals; or
Learners who possess a level 3 qualification in another discipline and want to develop their careers in health and
Assessment
Assessment is varied and may include; written reports, presentations, group work, viva, a worked based project and personal development plan.
Learners are required to develop an assignment for each unit. Assignments are an important part of learners' work at the Centre. There are strict rules about: -

plagiarism – using another person's words out of a book/ journal article/ conversation/ lecture without formally acknowledging it,
referencing - how to reference and refer to another person's work in your written work so you avoid plagiarism,
word length of essays and reports,
Presentation and style of a report, including the style of language used, and
Learners are required to sign a declaration of authentication to confirm that the work is their own and that any assistance given and/or sources used have been acknowledged.



All learning outcomes must be assessed using assignment appropriate to the assessment of knowledge, understanding and skills.
There must be valid, sufficient, and authentic evidence of all the assessment criteria.
Centres are required to provide a programme of formative assessment that prepares the Learners for their finalassessment.
An assessor should mark submitted assignments. Assessors must plan, gather and then assess learner's evidence according to RQF level descriptors' requirements and on the basis of Pass/Fail criteria. These should be made available for internal moderation to the centre Internal Quality Assurer (IQA).
A mark of at least 40% is required for a unit to be passed and the credit achieved. This same pass mark applies to all units that contribute to the Diploma. Once a unit pass mark has been agreed by and credit awarded, the student may not be re-assessed in that unit.
EBMA undertakes external moderation to monitor the assessment and internal moderation processes within the centre to make sure the assessment remains fit for purpose and that the assessment process and practices by the centre continue to meet EBMA's centre recognition requirements.
Fees Information
Please consult throughout fees page for latest information
Funding Opportunities
For Learners
This qualification is an approved qualification for funding. You must be 19 or older on the first day of your course at an approved college or training provider in England.
You can apply for an Advanced Learner Loan to help with the costs of a course at a college or training provider in England. Please note that Loan eligibility doesn't depend on your income and there are no credit checks. It is much like the student loans for university courses.
For Centres
To offer Advanced Learning Loans to potential learners, you must have a loan facility with the Skills Funding Agency as an approved provider and falls on the SFA Register of Training Organisations.
Career Development
Learners completing the QUALIFI Level 3 Diploma in Health and Social Care will allow progress to -
the QUALIFI Level 4 Certificate in Health and Social Care, or
the first year of undergraduate study in health and social care; or
directly into